I HAVE just returned from Zimbabwe, so most of my posts for the next few days and weeks are going to be about the motherland, or recounted to her one way or another.
One of my prime fascinations every-time I am in the Land of Sunshine, is the brisk evolution of street lingo. I almost always find myself out of depth even if I have been away for a mere half a year.
On hand to mete out a harsh crash refresher slang course, on a sorry "diaspora" git are my ever-present, deceptively cute-looking yet tough-loving nieces, Thelma and Tendai a.k.a T and T. It's a horrifying, mortifying and often perplexing proposition. One best avoided. But I am not a quitter; and at my age, one needs just the right communication ammunition to reflect some semblance of the "cool factor", otherwise its down the drain we go.
This time round my language tutors were a hair's breadth from pimp-slapping me for constantly greeting people with a chirpy "Ndeipi yako" ('What's up?', though the literal translation amounts to 'Where's Yours?') . NO!, they don't say "Ndeipi" here any more.  In fact that train has long since departed, initially splitting to just "Ndeipi?", before the entire platform boarded onto "Zviri sei sei?" ("How are things?") and even that too has been upgraded to a slimmer, shorter, "Sei, sei?"
Say "Ndeipi?" and look a fool, T and T warn me. I gulp.
"Girls", I knew of course, are no longer "mabhebhi" – as originally made popular by Sungura legend System Tazvida in the 90s. No one hardly ever calls chicks, "makoso" either. No sir, that fly girl over there is a "njani", do you get me?!
And that phrase in itself now goes by "waiziva" ("Do you get me?" or "You know what I mean?" or "Nah mean"); as made popular by rappers Junior Brown and MC Chita on their street classic, H.R.E Kings Rendezvous. The Twitter/text-speak equivalent is a cool "Y-zia" – as made popular by Hip Hop producer Take 5.
Which reminds me of the initial objective of this post: to share with you Harare's current top 5 bangers, by MY humble observations…but I digress…
5. Happy – Tehn Diamond featuring Junior Brown
Tehn rekindles the magic JB first wound when making H.R.E Kings Rendezvous with MC Chita in 2010. The formula here is the same: a perfect blend of a North/South collabo. Harare's most-versed ghetto scholar JB, trading verses with suburbia kingpin-in-the-making, Tehn.
Happy ft. Junior Brown by TehNDiamond
The icing is provided by seasoned producer, Fizzo, who waves his hit-maker wand over the track bringing out layers upon layers of synths, kicks and snares. It's so good, you could even bump a whole club down to this joint on raw instrumentals alone.
4. Maneta – Fada Wemangoma
Harare's streets are addicted to some thumping dancehall. They are also addicted to the reality show, Big Brother Africa. And the two put together, make perfect sense.
New Bashment DJ, Fada Wemangoma makes his entry by going straight for the jugular of Zimbabwe's now infamous female entrant into Big Brother Africa, Maneta. The reality TV star attracted the ire of thousands of Zimbabweans for fighting compatriot, the Urban Grooves singer Roki,  live on the TV show beamed across the continent. That scuffle, of course earned the pair a boot off the show. (Maneta has also recently had brickbats thrown her way for telling her thousands of followers on Twitter that she will marry for "money over love.")
Fada's track pokes fun at her in several hilarious of ways. Ways you wouldn't get unless you had a lingo lesson from my T and T.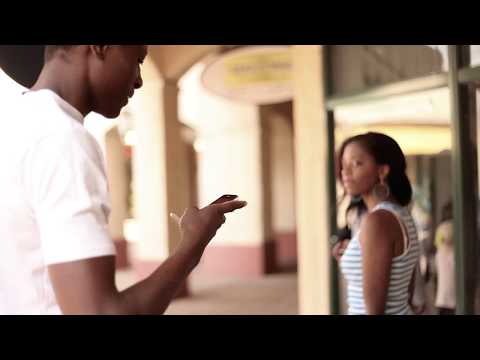 Expect more from Fada, who is under the management of UK group, Samuel Bernard Media. We are told he has started working on new material for his forthcoming album which will feature collaborations with Reggae songstress Tenza Foster (formerly of the girl group FYA), the Essex based Hip-Hop group All Stars and upcoming dancehall artist Juvaz.
3. Go Ahead – Simba Tags featuring Junior Brown
As you will notice, Junior Brown is the common denominator on a great chunk of Zimbabwe's bangers at the moment.
On this joint, he gives an ample hand to rising producer Simba Tagz.
Simba Tagz Ft. Junior Brown – Go Ahead by LyM-C
Other than a rather questionable feature on Tehn Diamond's The Sweet Life earlier this year, not much is out for the public ear from Tagz as an emcee. (Or at least I ain't heard much from him to make objective critique of his spitting skills.) However, his pedigree as a producer stands. Testament to that is his making of Zubz the Last Letter's last two singles, Extras and Stereotype.
 2. My Money – Those People
A thumping dance tune from probably Zimbabwe's most successful urban music producer, Audius Mtawarira and rapper/DJ Yagi Dojo.
Audius is a multiple award winner of the APRA and ARIA music awards in Australia where he was producer for Sony Records. He also won Song of the Year for his R&B ballad If Only You Knew at the ZIMA awards in Harare in 2003.
I met and interviewed Audius then, and was well chaffed that his ground-breaking hit had at the time helped usher electronic music into Zimbabwe's mainstream. If you weren't into the local urban scene, you'd never heard anything like this before coming out of your radio.
THOSE PEOPLE – MY MONEY by ThePeoplesHub
His new track, My Money, is a refreshing return to the light-hearted dance pop of new-age R&B (or what they are calling Afrobeats in London and West Africa.) It's a skip-down-the-street kind of song and a pure joy to listen to.
Support good music a cop this track off iTunes.

1. Madrinks – Junior Brown
Man of the moment. JB's resume of hits is stacking up thicker than the gut of a Mereki Gochi Gochi regular. And Gochi Gochi BBQs, partying and flowing drinks is his sermon's subject here.
Madrinks should add another bullet point to Brown's so far successful career. Great lyricism and impeccable vocal performance from JB on another Fizzo track.
Madrinks – Jnr Brown (Prod. by @takefizzo) by Jnr Brown
If you have heard him on Syn City and HRE Rendezvous, this will strike you as an unexpected change of pace in Jnr Brown rap delivery. There are legendary producer Begotten Sun's inspired mbiras all over the track. Throw in the lack of effects on JB's voice, the low range and the occasional silent pauses and it shouldn't work, but it does. Brilliantly.
A front-runner to JB' upcoming album, Morning Glory, there's a wonderful aura around this hypnotic song.
Words by: @makiwahenry